Our History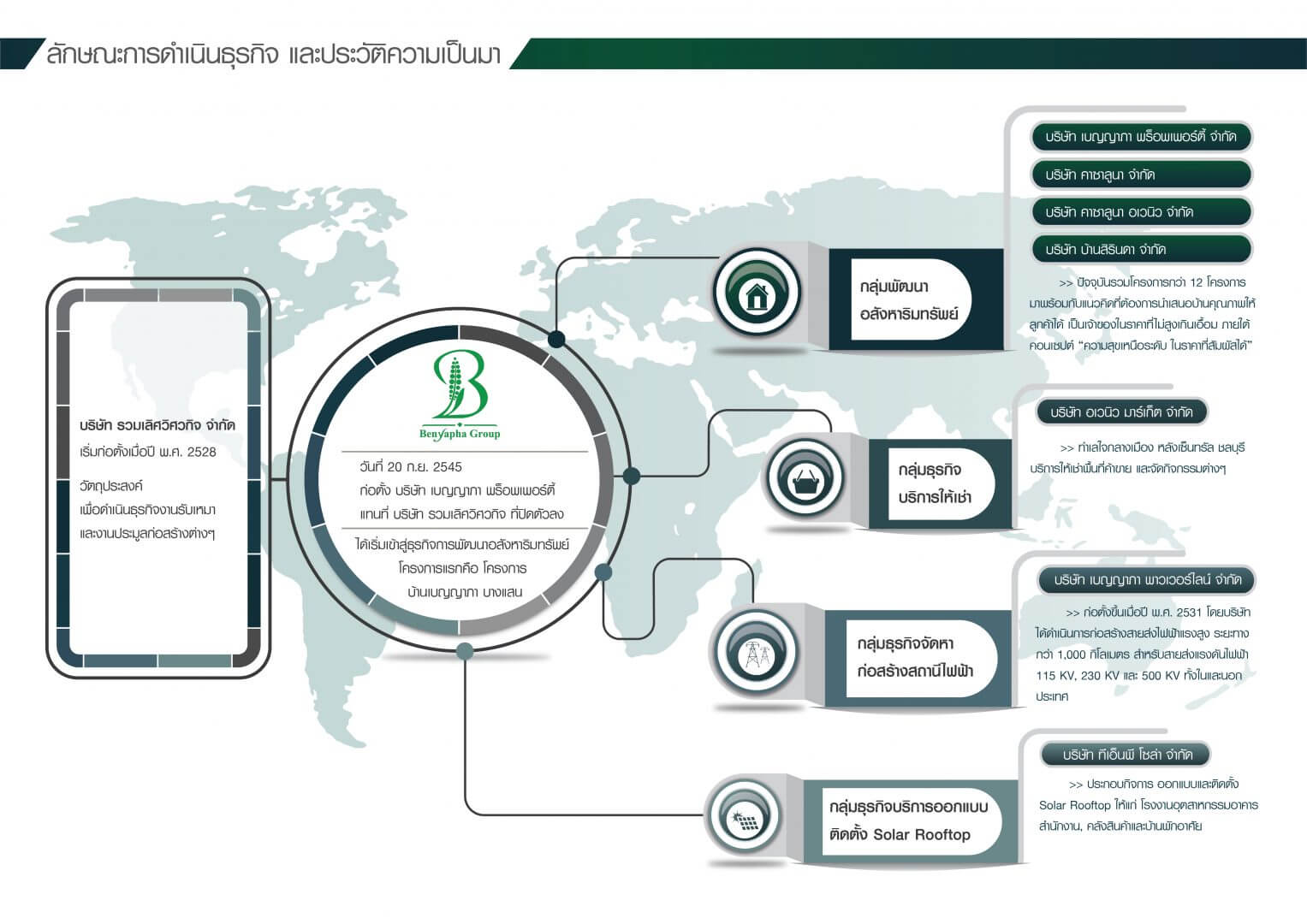 Back in 1988, Ruamlert Engineering Company Limited was established with a purpose of running a contractor business and construction bidding. With almost two decades of experiences and expertises in the business, a working group had foreseen the emerging opportunities and potential of real estate development. In 2003, therefore, "Benyapha Property Company Limited" was founded as a Real Estate Developer Company in the substituted for Ruamlert Engineering Company Limited that had been closed down ever since. The new company major aim is to deliver the high quality house at an affordable price to consumers, by following such a strategy, every single step of the project construction procedure is strictly controlled the quality, as such, the company becomes a distinguished and a well-known in the business, comparing among real estate developers.
Company Profile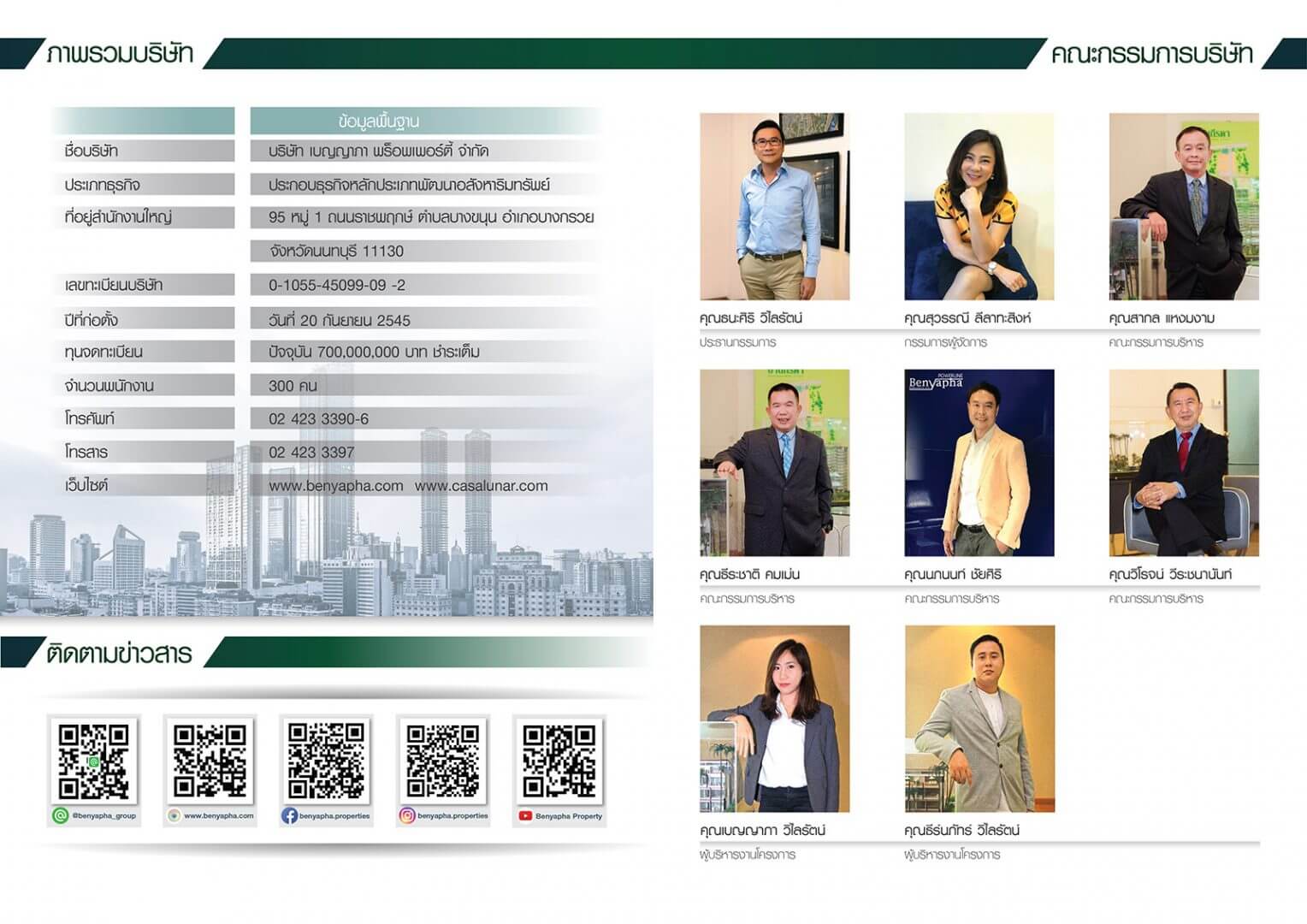 Benyapha Property Company Limited was established on September 20, 2003 with registered capital of 5 million baht, by Mr. Thanasiri Vilairat who is a current company chairman. The first project of Benyapha Property was proudly launched in 2005, named "Benyapha Pinklao", a single-detached houses which received a very warm welcome and all surpringly were sold out in the year of its launched. After a year of overwhelming success of the primary project, "Benyapha Rajapheuk", a single-detached houses came after and received a well-responses as well. At that time, the company had recognized the potential of real estate development in Chonburi-a city with huge high-growth potential, therefore, the company gradually started to expand its pioneer project in Chonburi named "Casalunar" a seaside single-detached house on private beach which has always been in high demand. The Casaluna project is presently in the phase 3 development. In 2007, the company increased its registered capital from 140 million baht to 280 million baht, and launched "Casalunar Avenue", a project of a single-detached house and condominium to the consumers during that time of increasing popularity and demand for real estate in Chonburi.

For the year 2009 on November 9, the company raised addition capital to 700 million baht with many successful launch of quality projects such as "Casalunar Paradiso" the 4th phase of high-end beachside condominium on Bangsaen-Bangpra, "The Rise B Condo" in the heart of city of Chonburi next to Central Plaza, including "Baan Keerada Liang Nong Mon", "Baan Benyapha" on Samet area closed to Central Chonburi, "Lake Valley" the place beyond imagination surrounded by green mountain and river at Amata City on Bor win location, and the latest project "Baan Beyapha" on natural environment on the prime location in Pluakdaeng, Rayong. With quality assurance philosophy and the company's portfolio development has proven experience and expertise in building. Every project of Benyapha Property is situated at a very prime location and relaxing environment, guaranteeing high rate return on investment for speculation in the future.
Nature of Business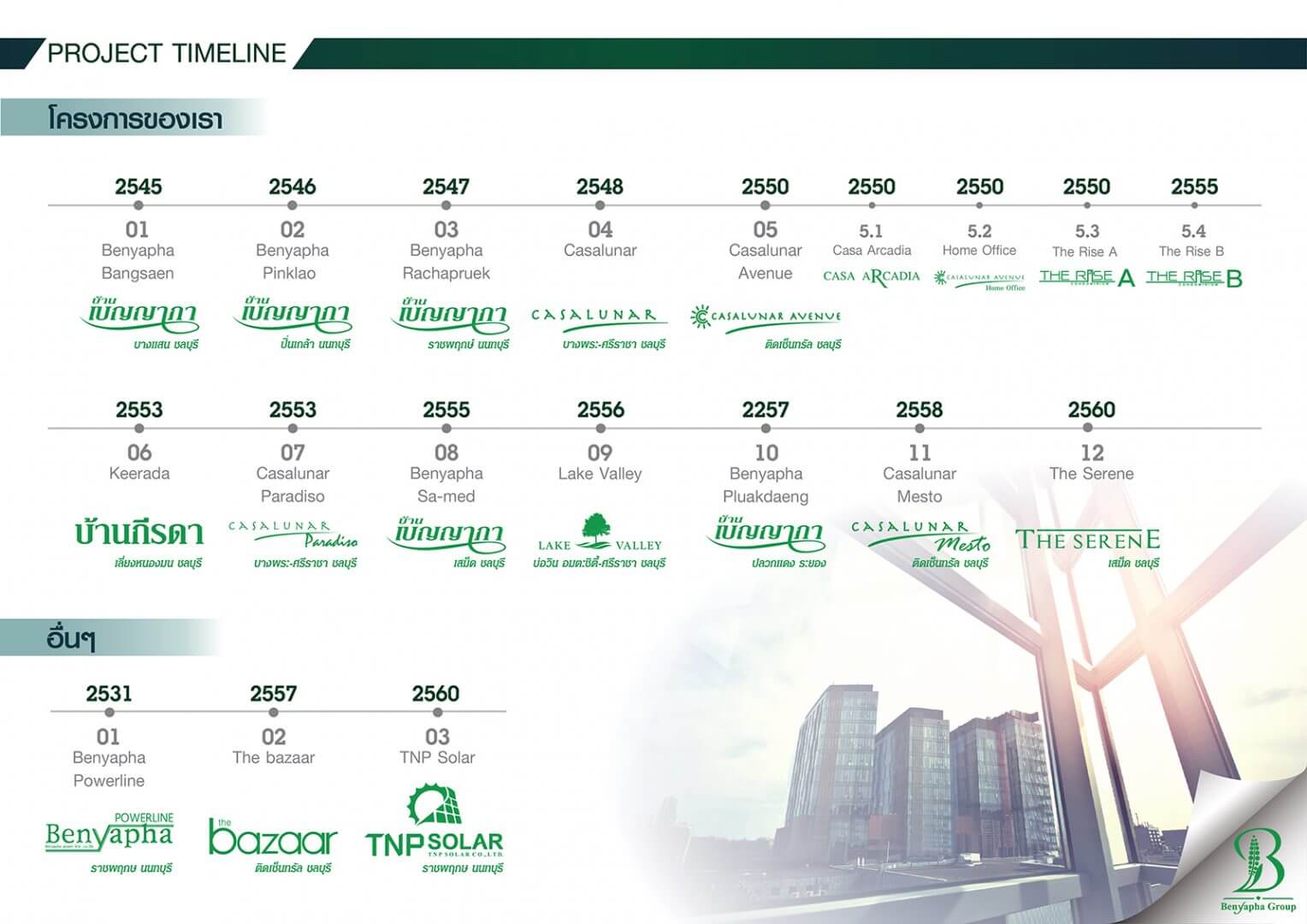 The company has operated property development for sale which included single-detached house, commercial building and condominium projects under the purpose of serving mid to high income consumers. For a future plan, the company is now studying a real estate market and its possibility for rental development.